International Process Service in Qatar
International service of process is complex. Rules vary depending on the country of service, so it's important to choose a process server who is familiar with both the procedures and the region.
DGR has experience effectuating service in over 100 countries, including Qatar.
Depending on what the service requires, we can:
Provide supporting information and documentation
Assist in getting difficult court signatures and affidavits
Arrange for informal service, if appropriate 
Our worldwide network and extensive experience ensure the fastest, most efficient service possible for our clients.
Service of Process in Qatar
Qatar is not a signatory to the Hague Service Convention or the Hague Evidence Convention. This means that all service of process, including subpoenas, must take place either through the formal method of Letters Rogatory or the informal method of service via agent.
Letters Rogatory provides a way to establish jurisdiction in another country where there is no formal treaty agreement. Requests must be completed through diplomatic channels and may take months or even a year or more for service to be completed and an affidavit to be received.
Service by agent can be accomplished by a process server agent or similar court or private representative in a foreign country. Service via agent is generally much faster, but it is not appropriate for all situations. For instance, if you need to collect a judgment, service via agent should be avoided in favor of formal methods. Governments will not enforce a judgment if service is delivered by a process server agent or another representative.
Requests for international service of process must follow the rules of the local courts, so it's important to be aware of those rules before requesting a particular type of service. DGR's experience in serving papers abroad can help you navigate the rules and regulations specific to Qatar.
Process Service under Letters Rogatory in Qatar
In the absence of a treaty or other agreement, Letters Rogatory is the customary means of obtaining judicial assistance from overseas and follows a strict diplomatic protocol. Essentially, they are requests from the courts of one country to the courts of another for a specific act. 
In most cases, the judge presiding in a U.S. court case signs a letter, which is submitted to diplomatic channels through the U.S. Department of State and eventually arrives at the court in the country in which the defendant is residing. The foreign court can comply with the request or deny it. If the foreign court decides to comply, service is then completed under the local rules of that jurisdiction. 
This process requires a number of legal documents to be assembled and submitted to the foreign court, some of which also require a judge's signature.
Letters Rogatory require specific forms and details. It's not unheard of for documents to be sent back for minor errors or omissions, which can delay an already lengthy process by several more months. It is essential, therefore, to work with an experienced provider who understands the hurdles inherent in  international service of process. DGR's decades of experience in international process service can save you time and stress when working through these channels.
Learn more about Letters Rogatory.
Translation of Documents
Qatar requires the full translation of all documents into Arabic, Qatar's official language. This includes summonses, complaints, and all exhibits related to the case. Any failure to translate documents will cause the Qatari court to reject the service request and can result in lengthy delays.
DGR can help with cost-effective translation services. Translations are certified and will hold up under international rules of service.
Informal Service of Process in Qatar
Informal service is generally much faster than Letters Rogatory, but it is best used only for situations in which the goal is notification, rather than enforcement. In cases when a judgment overseas will not be enforced, service through an agent can be a much simpler, faster alternative to Letters Rogatory.
At DGR we've completed international service through an agent as quickly as one day. The typical timeframe is between one to two weeks, which is much faster than the three months to a year or more that is typical when using Letters Rogatory.
Learn more about international process service via agent.
Serving Legal Documents in Qatar
Translation, the use of diplomatic channels, cultural differences, and the need for extreme attention to detail when submitting Letters Rogatory can cause delays that waste time and money when completing service of process in Qatar. Using a process server who understands the requirements can help ensure that service is completed as quickly as possible.
DGR Legal has decades of experience handling international process of service requests. Our understanding of the requirements of each country, including Qatar, ensures that when there are challenges in the process, we know how to adjust our strategy to keep the service on track. Our expertise in effectuating service overseas lets you rest assured that your papers will be served as quickly and efficiently as possible.
If you have questions about process service in Qatar or any other region we serve, please contact us.
The staff of DGR Legal are not lawyers, nor is our organization a law firm. The information provided on this website does not, and is not intended to, constitute legal advice. Rather, all information, content, and materials available on this site are for general informational purposes only.  Information on this website may not constitute the most up-to-date legal or other information.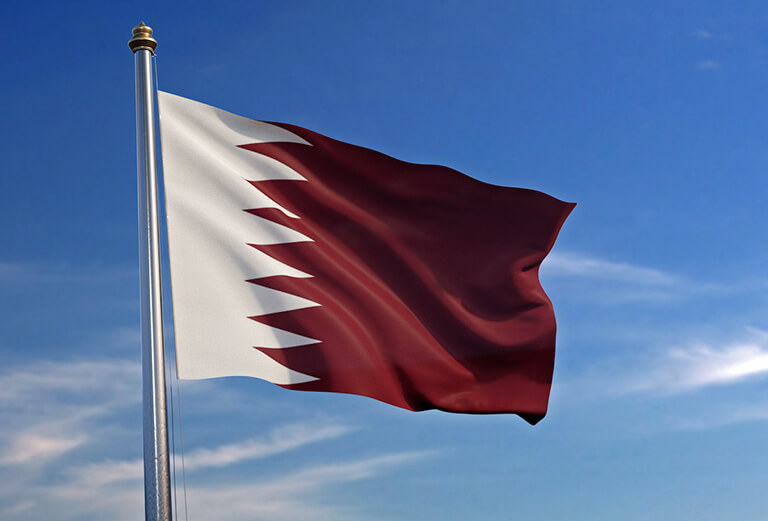 "*" indicates required fields
Service across state lines made simple with the use of the Uniform Information Discovery and Deposition Act.
From knowing which method of service is best to handling translations, we've served around the globe.
Same-day delivery, where your package is our driver's only priority and you get a recipient's signature.