In Memory of Michael J. Gibson
March 16, 1957 – February 13, 2013
Whether you were a fellow Process Server, friend, family member, DGR customer or just a boss to Mike Gibson you were always treated the same way…… With respect, kindness and sincere happiness.  Mike was just so special to each and every one of us that his memory and his smile will never diminish with every passing day.
Mike came to DGR almost 24 years ago and left an impression that will never be forgotten.  He was successful in life, period.  To many of us who knew Mike, he was usually referred to as a great friend, leader, passionate visionary, kind and most certainly believed in helping others all of the time.  He never ceased to amaze Debbie and I or any of the people who touched his life every day.  He was and will always be remembered as the face of DGR.
I had the pleasure to be with Mike more than 40 hours every week and we certainly bonded and became great friends.  Mike's closest friends, Brian and Laura were most remarkable during his toughest time and never left his side or ever lost hope.  You couldn't ask for better friends like Brian and Laura and that only shows just how special Mike was to both of them.
Mike so much believed in helping others that he was often referred to as the "go to person" at DGR.   There wasn't a person who worked with Mike that didn't rely on his opinion every single day.  Mike was incredibly talented and had a wonderful way of making any situation tolerable and easy.  Whenever we had a problem, his motto was, "there are no problems, we are just having an issue" and then we would deal with it together.
What was less well known other than to his friends was what a warm hearted, generous and loyal person he was.  If he saw that something was needed, he just took care of it.  He certainly spoiled all of us, all of the time.  He donated his time and knowledge 24 hours a day.  If you needed Mike, you just called on him and he was there.
Mike's vision to make DGR the greatest Process Service was evident in that he helped recruit the most talented people to work together with us.  He also left behind some Gibson magic in the form of his nieces, Alana and Courtney and his sister-in-law Kim Gibson who are an integral part of the DGR team.
There is no doubt in my mind that we will continue Mike's vision to become the pre-eminent legal support service and to complete what he would have wanted.  He will surely be missed by all of us but will never be forgotten.  I think of Mike every day and wish he was here beside me, but I already know that he is beside me and guides us through the days.  I am happy to have known such a soulful, kind and caring person that God placed with us for just a short period of time but look forward to eternal life when we reunite.  Mike was and will always be in our hearts.
– Jerry and Debbie Colasurdo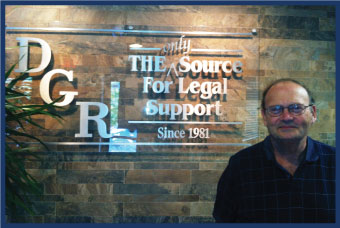 "*" indicates required fields
Service across state lines made simple with the use of the Uniform Information Discovery and Deposition Act.
From knowing which method of service is best to handling translations, we've served around the globe.
Same-day delivery, where your package is our driver's only priority and you get a recipient's signature.