As part of the commentary on our last post in the Process Server LinkedIn group about last week's post on process server registration and education requirements, a fellow process server questioned how many states require E&O insurance for process servers. The surprising answer to this question:  NONE! Not a single state requires E&O insurance in order to become a process server. Nevada is the only state which requires any type of insurance, and the statute does not require anything beyond general insurance.
Even though states don't require E&O insurance, that doesn't mean process servers don't carry it. In fact it's something that many have in order to run a process service business. The liability of not having it far outweighs the cost of having the policy.
However, several states do require bonds but the number of them are minimal. Check it out this visual created with data from the Fordham Law School piece: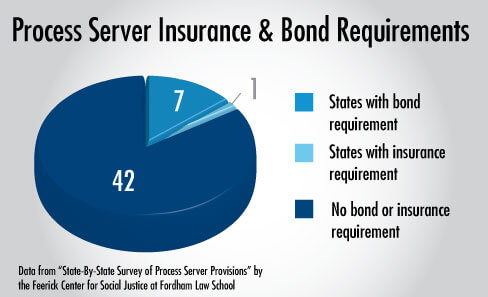 The above is from the 2009 data, so it doesn't include New York City.  The recent rules changes in New York City now require process servers to post a surety bond for the duration of their license period. If a server can't get a surety bond, they're required to pay into a Trust Fund established by the DCA.
Here's the full list of the states who have bond or insurance requirements along with links to their rules:
Arizona
13 Alaska Admin. Code 67.920 – Bond Requirements.
California – certain counties
Cal. Bus. & Prof. Code § 22350
Florida
Massachusetts
Massachusetts  Law Chapter 41, § 92 – Service of Civil Process
Montana
Nebraska
Nebraska revised statute 25-507
Nevada
Nevada revised statute § 648.135
New York
New York Subchapter 23 of chapter 2 of title 20 section 20.406-1 
Oklahoma